Peel Castle to Re-open Friday 12 June
On Friday 12 June, Manx National Heritage, the Island's National heritage charity, will begin the first phase of re-opening some of its visitor sites, starting with Peel Castle on St Patrick's Isle.  Peel Castle is a large, predominantly open air site in a stunning setting and lends itself well to providing a safe socially-distanced visit.

Edmund Southworth, Director of Manx National Heritage said:
"Our top priority in planning the re-opening of our visitor sites is the safety of our staff and visitors. We have followed Government advice and learnt from the experiences of visitor and heritage organisations around the world.
From this Friday, local residents will be able to enjoy the beauty and majesty of Peel Castle once more.  Whilst we know it now as St Patrick's Isle people have lived there for thousands of years and its special location means it has been used as a Christian monastery, a Viking King's palace, a Medieval Castle and Cathedral, and a coastal fort in both the Civil War and the Napoleonic War. It's a place steeped in Manx history but it's also a great place just to go for a walk, enjoy the fresh air and watch the local wildlife".
Full details of the additional safety measures we have implemented and guidance for visiting safely are available for visitors to download from our website. These include a limit on visitor numbers, hand sanitisation points around the site, social distancing and hygiene reminder notices, enhanced cleaning regimes and PPE for our staff.  There will also be additional staff on site to manage visitor numbers, monitor social distancing and provide a reassuring presence for visitors.
Mr Southworth continued:
"We have sanitised the site and made the visit safe but we have not sanitised the experience. It remains a great place to visit".
Some areas of the site will not be generally open to the public including the toilets and the Crypt.
Members and Annual Pass holders (validity has been extended on annual and membership passes, see website for details), children and students receive free entry, with adult admission at £8 including a guidebook and audio guide transcript or £5 for general admission.
The castle opens Thursday to Sunday from 11am to 3pm.  For information ahead of planning a visit see our website: www.manxnationalheritage.im or call 648090.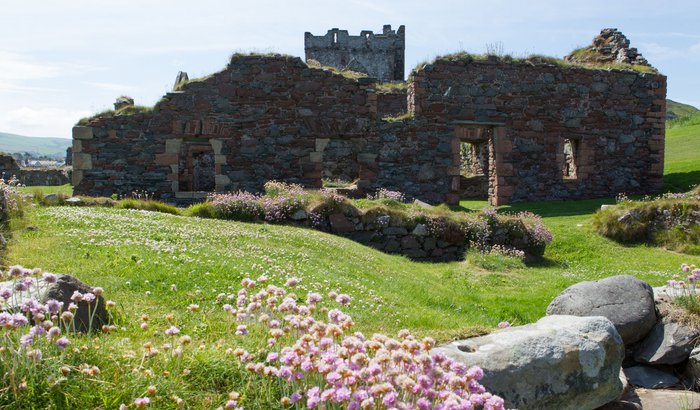 Peel Castle