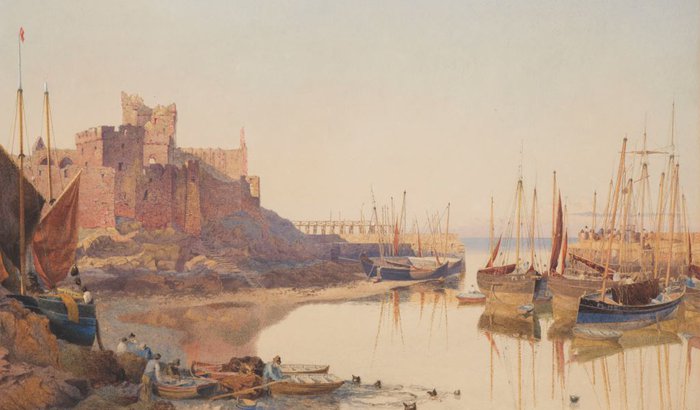 John Miller Nicholson
Issued: 1 March 2019
Explore the Isle of Man before Photography
Over 300 watercolours from the Isle of Man's national art collection have joined other public and private collections from around the world to create a free online website of watercolours painted before and around 1900.
Watercolours of the landscape, buildings and people of the Isle of Man by artists including Archibald Knox, Robert Evans Creer and John Miller Nicholson are available now to enjoy at www.watercolourworld.org/collection/manx-national-heritage, in addition to www.imuseum.im. 
This latest initiative fits perfectly with our objective to provide better access to the national collections to as many people as possible. In deed our oil paintings already appear on the Art UK website enabling our collections to be enjoyed by audiences around the world www.artuk.org.
The Watercolour World website provides a fantastic global shop window for a selection of paintings from the Isle of Man's art collection. A simple map is included with each painting showing the location of each watercolour and visitors with local or historical information can leave a comment on any of the images.
Jude Dicken, Collections Information Manager, Manx National Heritage, says,
"It's exciting to share these watercolours online.  Being able to compare the Island's coastal and rural landscapes with watercolours of the industrial North painted around the same time is new and will arouse more interest in these unique artworks of the Isle of Man.  We also like to think that seeing these works will further inspire today's watercolourists to continue to capture and record the Isle of Man."
Andra Fitzherbert, CEO, The Watercolour World, says,
"The Watercolour World is enabling a re-evaluation of the documentary record contained in watercolours before the age of photography. As a UK based charity, we are bringing together pre 1900 watercolours from both public and private collections around the globe and making them available to everyone on a searchable and geolocated website.  Already watercolours included on the site have been used as a record to map coastal erosion and heritage sites.  We have recently launched with around 80,000 images from every corner of the world. We are particularly pleased to have Manx National Heritage's participation in the project, with over 300 watercolours from their collection, the majority depicting locations in the Isle of Man. We would welcome more, and if you know of any public collections, or as importantly, private collections, however small or large, that may wish to participate, please get in touch." 
The Watercolour World is the brainchild of Fred Hohler, the British former diplomat who founded the Public Catalogue Foundation in 2002, which photographed and published over 200,000 oil paintings in public ownership in Britain for the first time, including those held by Manx National Heritage.  The joint royal patrons are HRH The Prince of Wales – one of the foremost users of watercolours today – and HRH the Duchess of Cornwall.
Fred Hohler, Founder of The Watercolour World, says,
"The Watercolour World will offer an extraordinary journey into the world in earlier times, to encounter our predecessors, and to observe how they lived, loved and played. With the world at risk from climate change, rising sea levels, and worse, the project will provide scientists and environmentalists with an accurate visual account of much of the natural world as it used to be. And to conservationists and historians, it will provide the evidence to conserve and rebuild structures, to find lost places and to see the roots of human progress."
Among the highlights on the website are 19th-century paintings of the tomb of Seti I, which were used to create full-scale reconstructions of the ancient Egyptian site, and a wide range of images showing the long-term effects of climate change such as coastal erosion along England's south coast and glacial retreat in the Alps. 
The Watercolour World is calling on members of the public to get in touch if they own any pre-1900 watercolours that they believe would be useful additions to the project. They can do so by contacting TWW via collections@watercolourworld.org.
Ends   
Image Caption: 
Peel Harbour mouth by John Miller Nicholson, 1877 (© Manx National Heritage, Isle of Man registered charity no. 603.  Image ref: 1976-0104).  Image released exclusively for the purpose of this press release and may not be reproduced for any other purpose. 
For further information, please contact jude.dicken@mnh.gov.im      
Lynsey Clague
Communications Manager
Manx National Heritage, Eiraght Ashoonagh Vannin
Manx Museum, Douglas, Isle of Man, IM1 3LY
Isle of Man registered charity no. 603
Telephone: +44 (0) 1624 648032
E-mail: lynsey.clague@mnh.gov.im 
Connect at: www.linkedin.com/in/lynseyclague/
Website: www.manxnationalheritage.im