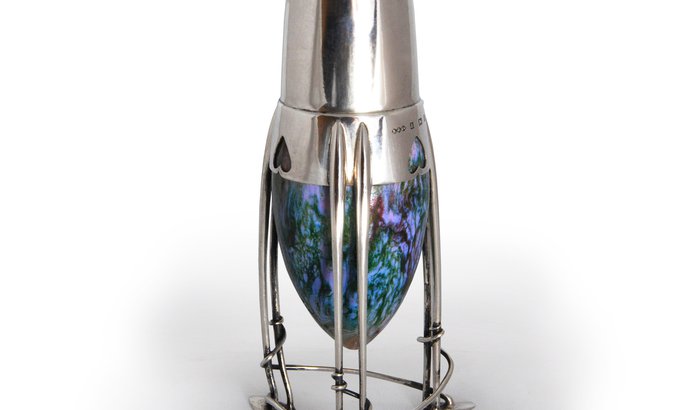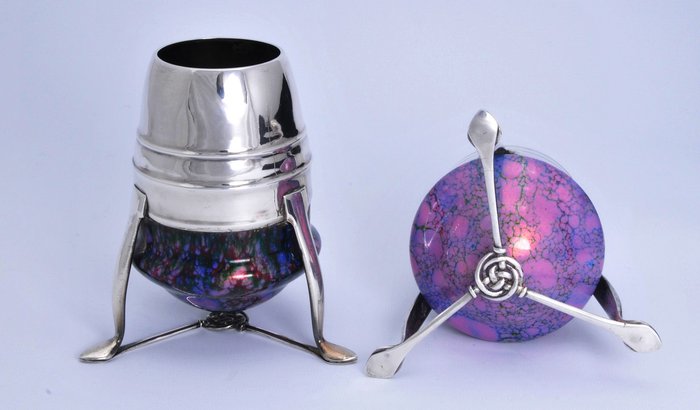 'Archibald Knox: Artist, Designer, Teacher'
A new exhibition showcasing the work of Archibald Knox opens at the Manx Museum on Friday 12th October.
'Archibald Knox: Artist, Designer, Teacher' will feature an eye-catching display of Knox clocks, silverware, pewter and jewelry, some never been seen before on the Island. Curated by the Archibald Knox Forum, the exhibition will go on display in the museum's Cabinet of Curiosities and will showcase the breadth, depth, and sheer genius of Knox's design work between 1898 and 1911.
Chris Hobdell, Co-Founder of the Archibald Knox Forum said:
"I'm fascinated by the fact that on the Isle of Man, Knox is mainly known as a watercolour artist and teacher who did some metalwork designs but to the rest of the world Knox is known as the greatest of Liberty's designers. I would like to bring all the different aspects of Knox's work together so that people on the Island and around the world both know about and appreciate Knox as a great designer, artist and teacher. The Isle of Man has great potential to be known as Knox's birthplace and an international centre for his work and designs".
Yvonne Cresswell, Curator for Social History at Manx National Heritage said:
"Having had the privilege of curating the Knox collection at the Manx Museum for several years, I am particularly looking forward to seeing the pieces of Knox's work that haven't been seen here on the Isle of Man before.  The more I see, the more fascinated I am by the sheer range and variation in his work.  I never cease to be amazed by the intricacy and beauty of his designs".
Knox was a leading exponent of the 'British Celtic Revival' design style and his metalwork designs for Liberty & Co. with their distinctive interlace patterns, are seen as iconic examples of early 20th century design. Less well-known outside of the Isle of Man are his graphic designs and illuminated manuscripts which he produced using the same intricate interlace. The roots to Knox's designs can be found in his fascination with the carved Norse and Celtic stone crosses that had surrounded him from childhood on the Isle of Man.
He was educated in Douglas and was one of the first students to attend the newly formed Douglas School of Art in 1880.  Until 1897, he taught art at Douglas Grammar School, when he left to teach at various Art Schools in and around London. During this time he began producing designs for Liberty & Co and the Silver Studio.

Knox's innovative and intricate designs were in the vanguard of early 20th Century European art and design and through his unique interpretation the art of the Manx crosses was transformed into iconic modern design.   Over 100 years on, Knox's work is much admired, with his silverware recently voted 'Britain's Favorite Antique' by readers of British Magazine 'Homes and Antiques'. 
'Archibald Knox: Artist, Designer, Teacher' opens at the Manx Museum on Friday 12 October and runs until Sunday 13 January 2019.  Admission is free.  The exhibition is accompanied by an informative exhibition catalogue and supported by a range of free events – browse the event programme online at www.manxnationalheritage.im/whats-on/archibald-knox/ 
 Archibald Knox Forum free events are bookable via manxnationalheritage.im and include:
14 October, 18 November, 16 December, 6 January, 2pm at Douglas Borough Cemetery - Join Peter Killey at Douglas Borough Cemetery to see the 8 different gravestones designed by Archibald Knox, including the grave of fellow Manx artist, John Miller Nicholson.
20 October and 8 December, 2.30pm at the Manx Museum - Join Sue Wilson from the Archibald Knox Forum at the Manx Museum as she explores Industrial Espionage in the late 19th and early 20th century with examples of stolen designs. This is a short talk about the common practice of copying other people's designs during the Victorian and Edwardian era in Britain.
21 October and 9 December, 2.30pm at the Manx Museum - Join Julie Quine and the Archibald Knox Forum as they present a talk on 'Understanding Hallmarks'.  This is a short talk showing the various marks on Knox metalware pieces, including Liberty & Co marks plus a demonstration on how to read and interpret hallmarks on a piece of silver.
24 October, 21 November, 5 December and 9 January, 12pm at the Manx Museum – Join Yvonne Cresswell, Curator of Social History at Manx National Heritage, as she invites you to discover more about Archibald Knox's 'The Deer's Cry' during an illustrated talk at the Manx Museum.  The Deer's Cry was designed and executed by Archibald Knox (1864-1933) and it beautifully illustrates Knox's love for and the influence of the Island's carved Norse and Celtic crosses in his artwork. Knox is known to have worked on the Deer's Cry during the First World War, when he was a parcel censor at Knockaloe Internment Camp on the Isle of Man
27 October and 15 December, 2.30pm at the Manx Museum - Join Derek Tootill and the Archibald Knox Forum for a talk on the Cymric and Tudric ranges by Liberty & Co.
The two ranges were launched by Liberty & Co – "Cymric" c 1898 and "Tudric" c1902 – the terms 'Tudric' and 'Cymric' were the brand names given by Liberty to their new pewterware and silverware ranges c.1900. Both names were chosen to reflect a general sense of 'Celticness' and heritage.
24 November and 12 January 2019, 2.30pm at the Manx Museum - Join Sue Wilson and the Archibald Knox Forum for a short talk on 'When is a Knox not a Knox?'
Discover how other companies used the Liberty & Co's designs but altered them from Knox's original purposes and see examples of fraudulent pieces.
For further information, please contact:
Lynsey Clague, Heritage Communications Manager
Manx National Heritage
Tel: 01624 648032
E-mail: Lynsey.clague@mnh.gov.im