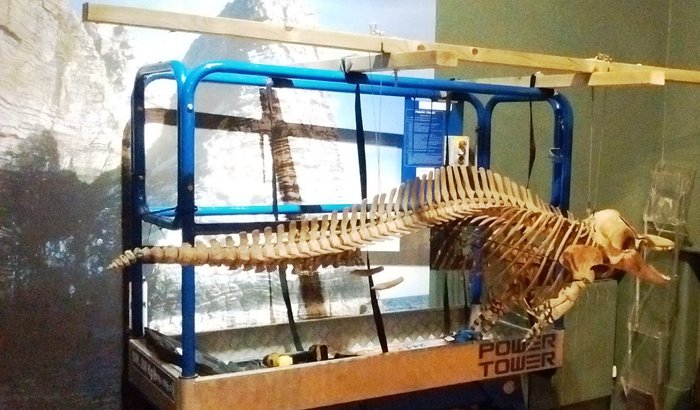 Dolphin move
Manx Museum Dolphins on the Move
Manx National Heritage's collection of dolphin skeletons has been moved the Natural History Gallery at the Manx Museum. The skeletons of the Bottle-nose and Risso's dolphins were previously displayed in the Manx Museum's Irish Sea corridor and have recently been moved to join their cousin, the Sei Whale. In the coming months they will also be joined by a Striped Dolphin.
Laura McCoy, Curator of Natural History said:
"A number of cetaceans can be found around the coast of the Isle of Man including Common Porpoise, Bottle-nose Dolphin, Common Dolphin, Risso's Dolphin and Minke Whale.  More rarely Striped Dolphins, Fin Whales and Humpback Whale are also found in Manx waters. 
From time to time, new specimens are acquired for the museum collections, with one of the most recent being a Striped Dolphin.  This particular animal was spotted in Castletown Harbour in December 2017.   Sadly, although efforts were made to help it back into deeper water it died shortly afterwards". 
Striped Dolphins are infrequent visitors to Manx waters.  The carcass of this specimen is currently being prepared for display so hopefully later this year it will join the other whales and dolphins in the Natural History Gallery at the Manx Museum.
The gallery is the ideal location to study the Isle of Man's wildlife, flora and fauna.  Admission to the museum is free of charge and donations are welcome. 
For further information, please contact: Laura McCoy 648022
Image caption (Left to right): Dolphins on the move at the Manx Museum