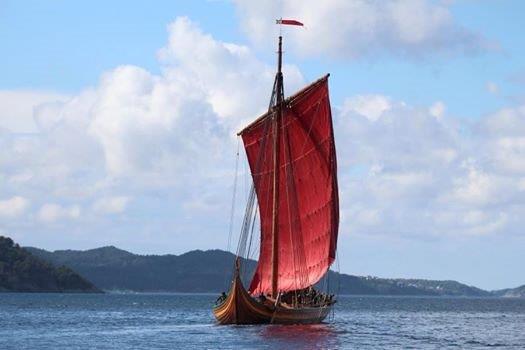 Viking Ship
Dragon Harald Fairhair – World's largest Viking Ship to arrive in Peel
The biggest Viking ship ever built in modern times will be in Peel harbour tomorrow – the Dragon Harald Fairhair. Named after Harald Fairhair, the Viking King who unified Norway into one kingdom - the great dragon ship is coming to Peel for a possible two night stay. The crew of 30 are on a voyage of a lifetime sailing from Norway to Liverpool which has not been short of drama so far.

During the crossing on the North Sea the large mast snapped and went overboard, luckily none of the crew were hurt. Captain Björn Ahlander made the decision to continue the trip without a sail and with a slightly altered route through the Caledonian Canal.
 This is the ships first major voyage since it was built in 2012, and the crew are on a massive learning curve. The ship is 114 feet of crafted oak with a 3,200 square foot sail of pure silk. It is a voyage that the Vikings would have known well and indeed a similar voyage to that achieved by the crew of Odin's Raven, the replica Viking longship now housed in the House of Manannan which was sailed to the Island from Norway in 1979.
 Isle of Man Harbours are kindly allowing this magnificent ship to moor in Peel Harbour in the shadow of the Islands spectacular Peel Castle, where the crew will be welcomed at both Peel Castle and the House of Manannan. 
 Anyone wishing to see the vessel is encouraged to take a trip to Peel Harbour tomorrow afternoon. 
Follow the journey here: https://www.facebook.com/DrakenHaraldHarfagre
Suzanne Williams
Heritage Site Manager
01624 648091