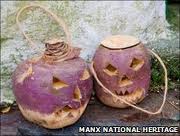 Hop tu Naa

Hop to our Hop tu Naa celebrations

With winter approaching, the Isle of Man prepares for one of the biggest festivals in the Manx calendar - Hop tu naa. And with this year's celebrations coinciding with the half term holiday, Manx National Heritage has a packed programme of events to treat the whole family.
Every year Cregneash welcomes hundreds of children to the farm to select their turnips and help them carve their turnip into a lantern for Hop tu Naa, as well as holding a fantastic celebration of crafts, music, dance and storytelling, celebrating traditions old and new.
On Saturday 26th at Cregneash at 'Hop tu Naa Nippers' , children can sing-along and dance, join a welly walk around the farm, enjoy the well-known tale of 'The Gigantic Turnip' and create a colourful autumn picture. On Sunday 27th join us at Cregneash to celebrate our unique Manx Hop tu Naa traditions and customs. Enjoy live music, carve your turnip lantern, join in the traditional song and dance and discover recipes and superstitions from the past.
Both events take place 12pm – 4pm and feature seasonal produce from the Farmer's Market and Apple Orphanage, Hog Roast and face painting. Every child receives a free turnip to carve – but be quick as stocks are available on a first come, first served basis. Admission to each event is £5 Adult, £2 Child and £10 Family. Train and bus links also operating from Douglas to Cregneash on Sunday, see www.iombusandrail.com for further information.
For those who prefer after-dark experiences, prepare for a scare at 'Castle Rushen in the Dark'.  Bring your little terrors and their torches for a spooky tour and hear some spooky stories as night falls, on Friday 25th and Saturday 26th October, 6pm – 8pm. Admission is £5 Adult, £2 Child and £10 Family.
During week-days from Monday 28th – Thursday 31st, come and collect and carve your turnip at Cregneash or visit The Grove, Ramsey at 'Turn up for Turnips'. A small charge of £1.50 per turnip will apply or bring along your own. Standard admission – local school-children go free with their ACE cards.

Later in the week Niarbyl hosts a Hop tu Naa Mhelliah Supper on Friday 1st November, with live music, three course harvest supper, turnip and pumpkin carving competition and fancy dress competition for just £25 per person. Call 843300 to book.

As we head into winter, it's the perfect time to stargaze, and where better than the natural beauty spot at The Sound, and one of the Islands' accredited Dark Skies locations. Tickets are now on sale for a stargazing supper package on Saturday 16th November, tickets priced £24, with a return coach travel option with stops from Douglas for £30, available from the Manx Museum and www.manxnationalheritage.im.
ENDS

Editor's Notes
In times gone by, Hop tu naa was considered to be the original Celtic New Year's Eve, marking the end of the summer and the beginning of winter. It was a time when people would celebrate a safely gathered harvest and all the preparations had been made for the long cold winter ahead.

The turnip (also known as moot or 'napin' in Manx) lantern, the precursor of the pumpkin lantern, is a symbol of Hop tu naa. It has been customary for children to call at neighbouring houses with their carved lanterns, swapping a song for some herrings, potatoes, or sugar and butter to make taffy, in more modern time's sweets and pennies.
Hop tu naa is also more recently associated with the famous character Jinny the Witch who features in the well-known version of the Hop tu naa song, still sung by children today.