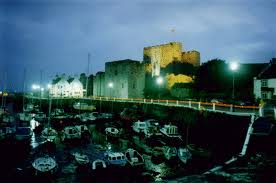 Twilight at Castle Rushen
Twilight at Castle Rushen
You are invited to a 'chilled out' evening beneath the stars at Castle Rushen this Thursday 22nd August with live music, games and good company. 'Twilight at Castle Rushen' is a special late night opening, and this year has music performances by acoustic guitarist and songwriter Zac Phillips, singing duo Us and 3-piece fusion Scammylt.
Visitors are invited to bring a picnic and refreshments, or enjoy the BBQ and games in the Castle grounds. The Castle keep will be open to visitors who want to explore the medieval fortress, play chess or learn a game of Nine Men's Morris.

Visitors can take the late night steam train operating between Douglas and Castletown. The evening service will depart Douglas at 17:20 or 19:00. The return train departs Castletown at 21:37 arriving back to Douglas at 22.15.

Alternatively visitors can board the Mann Sightseeing Open Top Tour Bus, from the Sea Terminal at 18:00, returning from Castle Rushen at 21:00. Telephone (07624) 464017 for more information.

Entry to the Castle is £5 adult, £2 child or £10 for a family ticket, all tickets available on the door. The BBQ is an additional charge. Please check www.manxnationalheritage.im or call 648000 in the case of inclement weather.