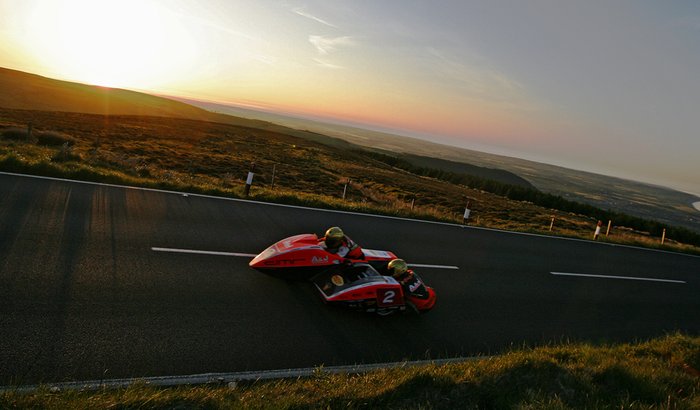 Dave Molyneux
TT ACTIVITIES AT THE MANX MUSEUM

TT Legends Film Screening by Gaucho Productions
27 May 2013 to 8 June 2013, showing hourly 10am - 5pm (last showing 4pm)
An exclusive film following the Honda TT Legends throughout the 2012 racing season. Produced by Gaucho Productions, 'TT Legends' goes behind-the-scenes with the Honda TT Legends team as they take on some of the world's toughest motorcycle races. It follows star riders, including John McGuinness, Simon Andrews and Cameron Donald, as they compete in the Endurance World Championship and at some the most iconic road races. Events featured include the Le Mans 24-hour, the Suzuka 8-hour, the super-fast North West 200 and, of course, the legendary Isle of Man TT. Tickets: £10. All profits to charity*.

TT Display
27 May 2013 to 8 June 2013, open daily 10am - 5pm
A special display of TT machinery, leathers and other memorabilia on show for the TT fortnight, where visitors can also try their hand at the TT superbikes Playstation game. Explore the museum galleries, enjoy homemade food in the museum cafe and pick up some gifts handmade on the Isle of Man. Free admission - donations welcome.

'No Ordinary Passenger'
With Special Guests: Stan Dibben and Dave Molyneux
Mad Sunday, 2 June 2013, 11am - 12.30pm
A fascinating insight into the daredevil tactics of side car racing with former world champion Stan Dibben and TT legend Dave Molyneux who talk about the thrills and spills of side car racing from the 1950s to today. This special event includes the Isle of Man premiere of Cabell Hopkins short film 'No Ordinary Passenger' and marks the 90th anniversary of sidecar racing at the Isle of Man TT Races.
Tickets: £10. All profits to charity*.

''A Dangerous Addiction' Film and Talk Show
With Special Guests Hector Neil, Wilson Craig, John Ingram & Milky Quayle
Mad Sunday 2 June 2013, 3pm - 4.30pm
The Isle of Man TT is described as the world's most dangerous race. Yet every year more and more motorcycle enthusiasts come to the Isle of Man to race in the event. Enjoy this fascinating documentary film by Al Jazeera, directed by David Niblock and presented by Simon McGregor-Wood, followed by racing banter in an interactive Q&A session with the filmmakers who will be joined by team managers Hector Neil and Wilson Craig, TT racer John Ingram and the Isle of Man's very own TT winner, Milky Quayle. One or two very special guests are also hoping to attend. Tickets: £10. All profits to charity*.
Tickets available from the Manx Museum Shop and www.manxnationalheritage.im
*Profits to The rob Vine Fund, The Joey dunlop Foundation and Manx Museum and National Trust.
All Heritage Attractions Open Daily TT Fortnight. Pick up your free guide to exploring the Isle of Man and discover our unique heritage sites from the world's largest working waterwheel to the thatched cottages at Cregneash Folk Village and medieval castles in Castletown and Peel. Discount available on multiple site visits with an Explorer Ticket, available from all Manx National Heritage sites and www.manxnationalheritage.im.

Cafes, Restaurants and Tearooms Open
Niarbyl Cafe in Dalby on the West Coast, The Coffee Station at the House of Manannan in Peel, The Bayroom at the Manx Museum, The Sound Cafe overlooking the Calf of Man, The Village Tearooms at Cregneash, The Grove Conservatory Tea Rooms in Ramsey