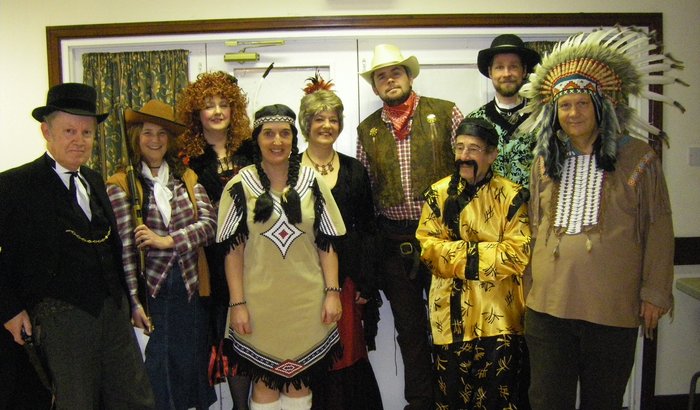 The Suspect Players
The Lucky's Legs Murder
The setting is the Lucky's Legs saloon bar in Mannville, Virginia, America.  It is sometime in the latter half of the 1800's and a suspicious death has occurred.  Gathered in the Lucky's Legs is a mixed group of people who may, or may not, know something about this.
Once again Jane McGregor Edwards and the Suspect Players held members in suspense at the FMNH Murder Mystery dinner on Friday 8th March 2013.
The plot thickened as the suspects introduced themselves, starting with Lucky the saloon bar owner, then Cool Hand Duke the gambler, Big Chief passing wind the Indian chief, Won Dun Wee the Chinese cook, Queenie Quine a singer and entertainer, Fanny OKelly a sharpshooter, Running Bare an Indian squaw, Flint Steele a cowboy and Glenn Fairy the sheriff. Clues and questioning of the suspects was followed by supper served by an amazing group of hardworking volunteers.
A thorougly enjoyable evening was had by all!  Who was the murderer - well you should have been there to find out!!
Thanks once again to all those who made the evening possible.