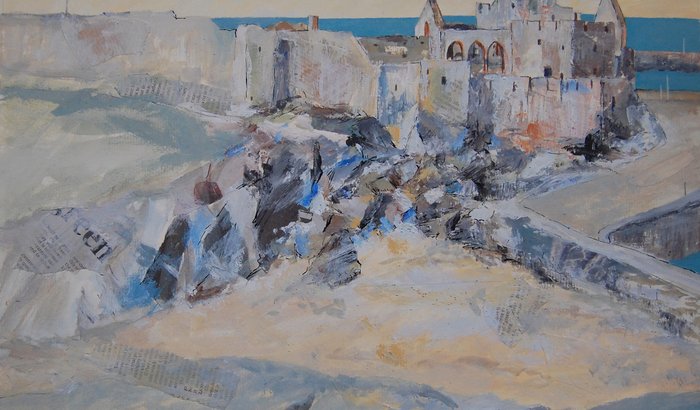 Gill Dyer - Journeys End
Journeys: an exhibition by The Creative Network

Manx National Heritage is pleased to announce the opening of Journeys: an exhibition by the Creative Network, at the House of Manannan, Peel on Saturday 17th November 2012.

Journeys is the first major group exhibition by the Creative Network; a new, island-wide, artist's cooperative working together to promote visual arts in the Isle of Man.

Hannah Gerrard, Assistant Curator for Manx National Heritage said:
"The recently refurbished gallery at the House of Manannan provides an exciting opportunity for us to work directly with local arts and cultural groups, offering a new space in which to present community-led exhibitions. It is a pleasure for MNH to deliver this exhibition in partnership with the Creative Network, a group which has already done so much in its founding year to raise awareness of the range of artistic talent on the Island.

The exhibition will feature a selection of works in mixed media on the theme of Journeys. Each artist tells us a little bit about their life journeys and experiences through painting, sculpture and film. It is a personal approach; showcasing not only the artwork, but the ideas and inspiration of the artists behind the work."
The exhibition will open with a 'Meet the Artists' session at the House of Manannan from 11:30am – 12:30pm on Saturday 17th November, at which visitors are invited to join The Creative Network in celebrating the opening of their exhibition.
Hazel Walsh, Chair of the Creative Network, said
"The Creative Network is delighted to be able to work with MNH to showcase new work by some of its member artists. The invitation to provide the first group exhibition in such a stunning new gallery space is a rare opportunity and greatly appreciated."
Journeys: an exhibition by the Creative Network at the House of Manannan, Peel will open daily 10am to 5pm on Saturday 17th November and continue until 6th April 2013.