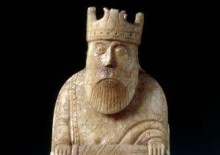 The Lewis Chessmen
Manx Museum Private Curatorial Guided Tour:
'Forgotten Kingdom' Kingdom of Man and the Isles 1000 AD — 1300 AD Exhibition – Allison Fox
One of the most fascinating periods in Manx history will be presented in a new temporary exhibition at the Manx Museum from 10th November. Featuring loaned material from the British Museum, British Library and National Museums Scotland. This is a chance to have a private guided tour of the exhibition itself and to hear about some of the practicalities of staging such an exhibition.